Over the years, NCRAC has been very lucky to have many excellent employees, volunteers, and thesis students working in the lab. These students showed dedication through their time and efforts. Although many past research assistants and volunteers from the lab are featured below, this is not an all-encompassing list.
Director
Dr. Dana R. Murphy, Department of Psychology, Nipissing University
Affiliates
Dr. Mark Wachowiak – Department of Computer Science and Mathematics, Nipissing University
Dr. Steven Arnocky – Department of Psychology, Nipissing University
Dr. Jeffrey R. Nicol – Department of Psychology, Acadia University
Project Supervisor Intern (2014-2015)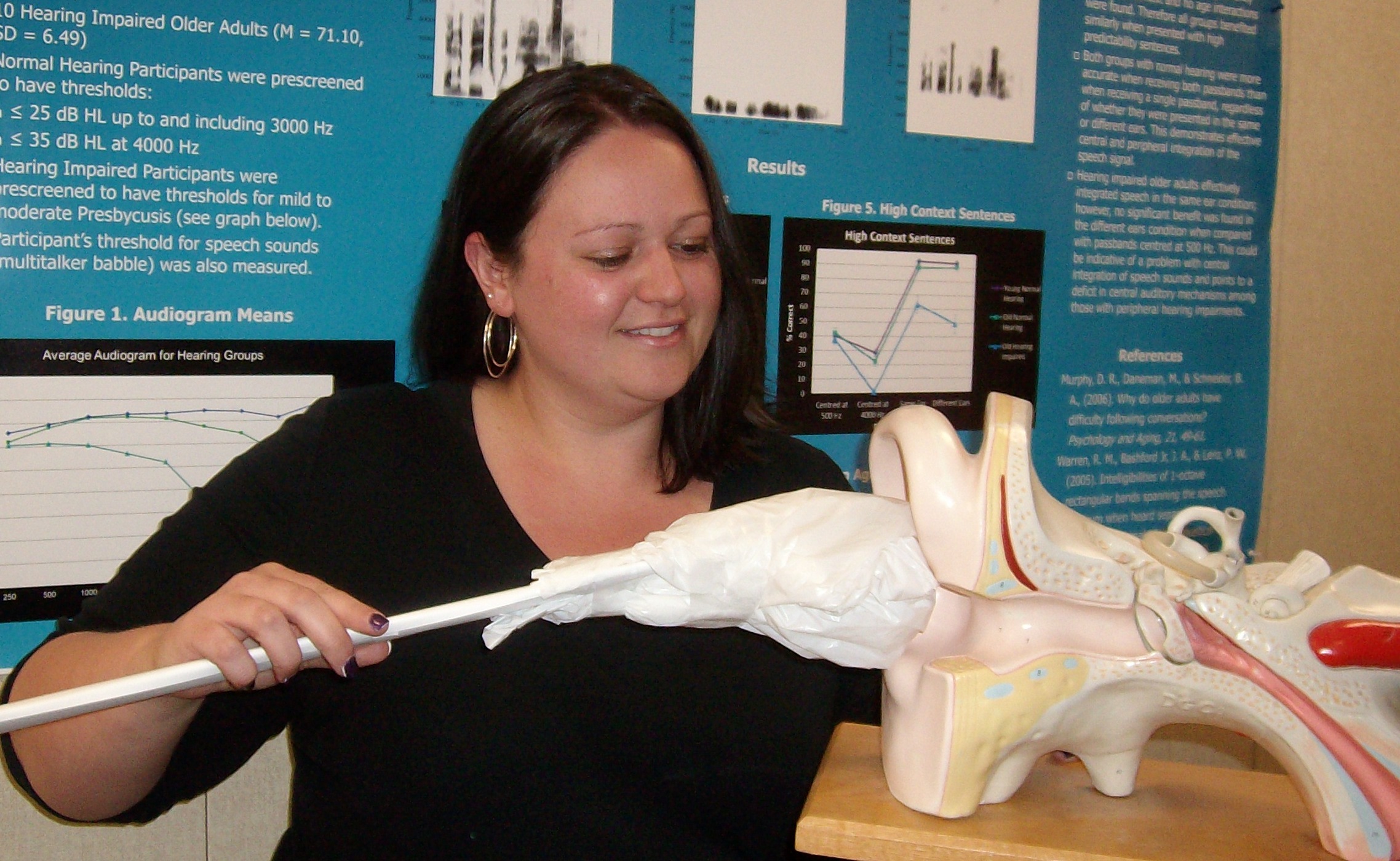 Marlena Pearson
The Project Supervisor Intern Position is funded, in part, by the Northern Ontario Heritage Fund Corporation (NOHFC) and in part, by Nipissing University.  Before working as an intern, Marlena volunteered with the NCRAC lab from 2010-2011 and was employed as a Research Assistant from 2011-2014.  Marlena graduated last June (2014) with an Honours B.Sc. degree in Psychology and an Honours B.A. degree in Criminal Justice.  Marlena completed her Honours Thesis in 2012, under the supervision of Dr. Jeffrey Nicol and is currently completing several research projects under the supervision of Dr.s Dana Murphy, Jeffrey Nicol, Mark Wachowiak, Steven Arnocky, and Justin Carré.  Marlena has also presented posters and research talks at the Nipissing University Undergraduate Research Conference; North Bay Regional Health Centre Conference; Cognitive Aging Conference Atlanta, GA;  and Canadian Society for Brain, Behaviour, and Cognitive Science (CSBBCS) Conference.  In the future, Marlena plans to pursue Master's and Doctorate degrees in Experimental Psychology.
Research Assistants and Volunteers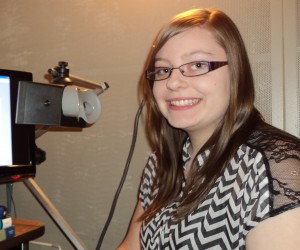 Natalee Clarkson
Natalee is in her 4th year at Nipissing University. She is studying Psychology concurrently with Education and pursuing minors in both English and Geography. Natalee is assisting with the development and testing of several research projects on spatial selective attention and gradients of focus.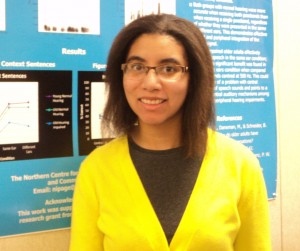 Nicole Robitaille
Nicole is in her 3rd year, studying Psychology at Nipissing University. She has recently started a project investigating implicit memory of younger and older adults using a binocular suppression paradigm.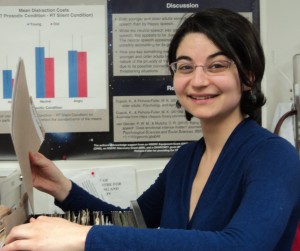 Masha Blokh
Masha has an M.A. in Speech-Language Pathology from the University of Texas at Austin and a B.A. in Linguistics from Harvard University. During her bachelor's program she helped design Russian-language psycholinguistic experiments at the Snedeker Laboratory for Developmental Studies. Her master's thesis examined the validity of bilingual Russian-English speakers' ratings of their own language proficiency.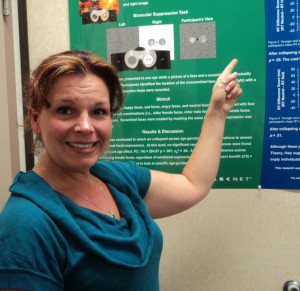 Amy Hatcher
Amy is starting her fourth year in the psychology program and is interested in completing a thesis project next year investigating cortisol changes in response to stress with potential interactions occurring when testosterone increases. Amy will be gaining lab experience this year by assisting with current projects in the NCRAC lab.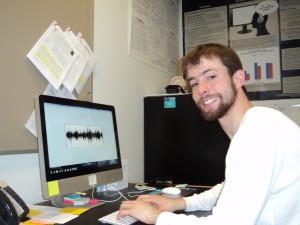 Graham Albert
Graham completed his honours thesis investigating how vocal pitch affects the distractibility and implicit memory of young men and women at the NCRAC lab in 2014 under the supervision of Dr. Dana R. Murphy and Dr. Steven Arnocky.  He graduated from Nipissing University in June (2014) with an Honours B.A. in Psychology.  Graham hopes to continue investigating the intersection between evolution and human cognitive processes.
Past Supervisors, Research Assistants, Volunteers, and Thesis Students
Devin Rotondo – Volunteer
Steven Perrotta – Project Supervisor Intern, Volunteer
Alain Carlson – Research Assistant, Volunteer
Nichola Hoffman – Honours Thesis Student
Breanna May – Honours Thesis Student
Allison Mondloch – Honours Thesis Student
Harmony Driver – Honours Thesis Student
Frank Cseh – Volunteer
Anna Dong – Volunteer
Sabina Caliciuri – Volunteer
Kelly Clarke – Research Assistant
Jessica Tanner – Project Supervisor Intern, Research Assistant
Rebecca Gill – Volunteer, Honours Thesis Student
Kristen Archbell – Research Assistant, Volunteer
Ariel Hu – Volunteer
Devon MacPherson – Volunteer
Amy MacIsaac – Volunteer, Honours Thesis Student
Laura Lapadula – Research Assistant
Andréa Martin – Project Supervisor, Research Assistant
Genevieve Vrana – Research Assistant
Kyla McKay – Volunteer
Robyn Pitman – Research Assistant, Volunteer
Melissa Daigle – Research Assistant
Dianne Howell – Research Assistant
Dulce Pelletier – Research Assistant